RECEPTION OF THE CANADIAN DELEGATION
The Canadian delegation and INSEP visit the CREPS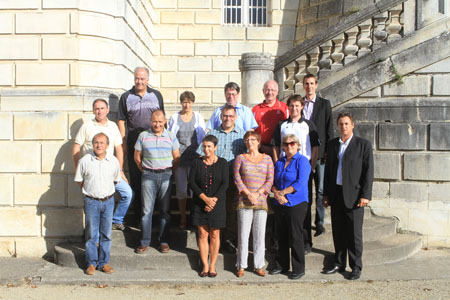 the INSEP delegation and the direction of the CREPS
Mrs Anne SCHIRRER, head of the CREPS, had the pleasure to welcome Mrs Patricia Delesque on Monday, September, 5th, 2011, deputy director of INSEP in charge of development, communication and international relations department and Mr Nicolas BRETIN from the same department who accompanied a Canadian delegation.
The purpose of this visit was to discover top level sports organisation in France.
Six persons composed the delegation.
Mrs Wendy PATTEN, head of Pacific Canadian Sport Centre, Mr Randy ANDERSON, head of Manitoba Canadian Sport Centre, Mr Evan Maccinis, head of the Atlantic Canadian Sport Centre Athletes department, Mr Marc GELINAS, director of Montreal Multisports National Centre in, Mr Marc LANGLOIS, head of the operations department of Montreal Multisports National Centre and Francis DROUIN in charge of high performances partnerships in top level sports.
They could discover the organisation of the CREPS, meet the heads of the top level, trainings and research departments, watch the " pôle France tennis" at practice, visit the Medical centre and the research lab, the CAIPS.
They could discussed with our partners from the University of Poitiers : Mr Laurent Bosquet, dean of the Faculty of Sports and Mr Patrick Lacouture, professor at the solid mechanics laboratory at the Futuroscope.